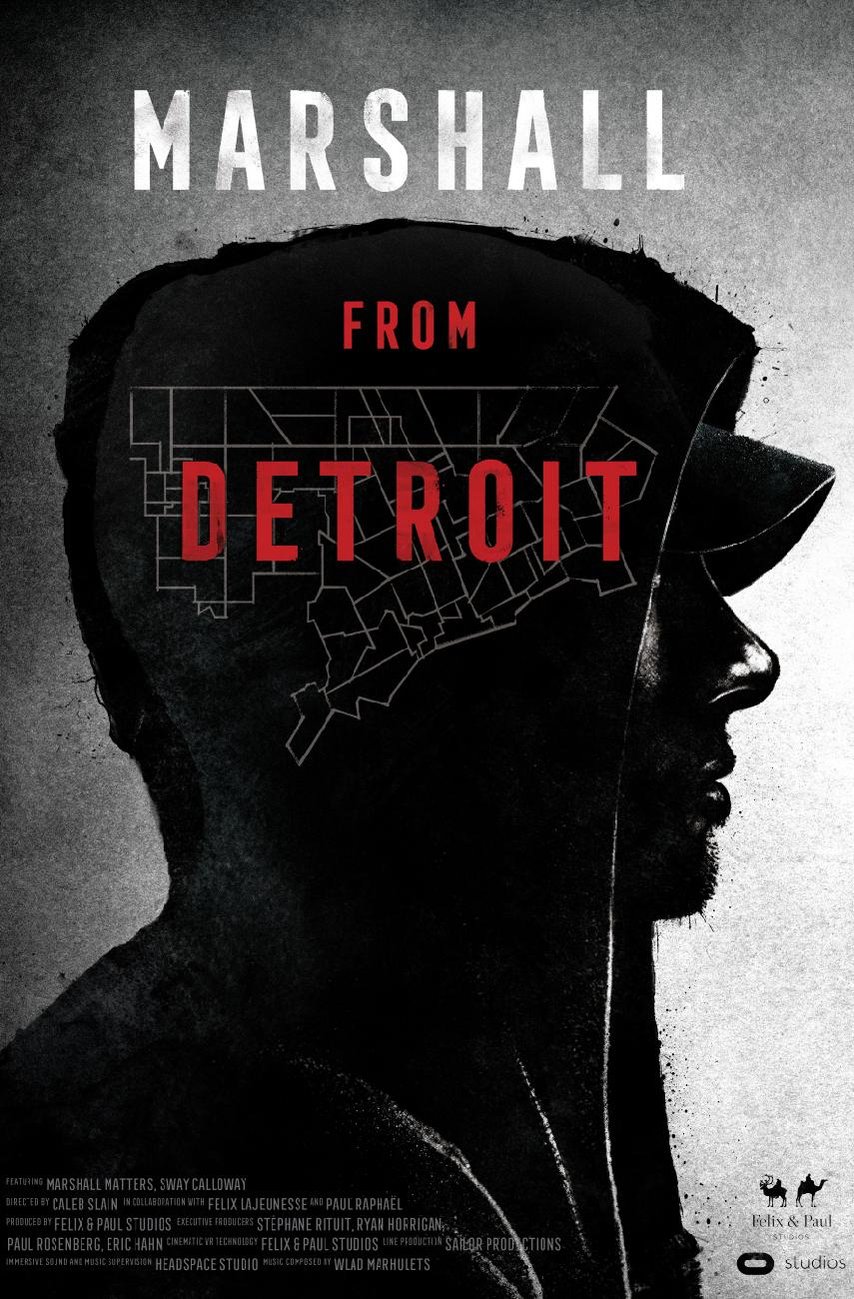 Traveling While Black (Youtube Trailer).

Traveling While Black is a cinematic VR experience that immerses the viewer in the long history of restriction of movement for black Americans and the creation of safe spaces in our communities.
Academy Award winner Roger Ross Williams and Emmy Award-winning Felix & Paul Studios' film transports you to historic Ben's Chili Bowl in Washington DC. The viewer shares an intimate series of moments with several of the patrons of Ben's as they reflect on their experiences of restricted movement and race relations in the U.S.

Confronting the way we understand and talk about race in America, Traveling While Black highlights the urgent need to not only remember the past but to learn from it, and facilitate a dialogue about the challenges minority travelers still face today.
Marshall From Detroit (Youtube Trailer).
D.O.P: Drew Dawson & John Londono.

Growing up, Marshall Mathers dreamed of rapping his way out of Detroit. Years and fortunes later, he still hasn't left.

Now in this intimate VR experience, take a surreal ride on a cold winter night with Sway Calloway and Eminem himself. Witness Detroit as never before as the two old friends swap stories, discuss dreams and keep it 100. Detroit is a land of historic paradoxes: a cornerstone of commerce, a post-industrial nightmare, a bastion of music, a cautionary tale. But to many it remains a symbol of strength, grit and reincarnation. With a front row seat down memory lane, this lyrical experience offers an unprecedented glimpse into its eponymous titans.

Marshall From Detroit is an atmospheric study of a legend, his hometown, and how a place can shape you.
Alegria, a Spark of Light (Youtube Trailer).
An incredible re-imagining of one of Cirque du Soleil's most iconic productions, "Alegría – A Spark of Light", a universal tale of change, renewal, and enlightenment. In a world slowly freezing into silence and stillness, the inhabitants of a once effervescent world are one-by-one, becoming paralyzed by the dark. Join them as they follow the light bearer and embark on an energizing journey that rekindles hope, sets a new world in motion, and ignites our own inner flames.